ENTER BELOW FOR A CHANCE TO WIN ALL YOU NEED HAIR SET FOR FREE
---
ENTER BELOW FOR A CHANCE TO WIN ALL YOU NEED HAIR SET FOR FREE
Prepare Your Hair For Salon Results

Get $500 Value Hair Set Delivered To Your Door
---
The farrah is designed for women with medium to long hair.Our smooth curl, no-tangle technology puts the power of a stylist in your hands to create salon looks in seconds.Lightweight, compact, and user-friendly, the Farrah will quickly become your new go-to magic wand. No more clamps, no more wands, no more burning yourself.Your best hair days are a Farrah away.
What Other Women Are Saying About the farrah...

Easy! Fast! Long-lasting Curls! Love it!
Saves your time and money that you usually spend in a salon! Its amazing how easy it is to use this curlier. I curlied my hair in like 5-10min and it lasted the whole day. The next day the curls were still beautiful. I love The Farrah curlier, its my favorite so far! I Highly Recommend It!!!!!

Stop Searching and Buy One!
I'll be there first to admit I was quite hesitant prior to ordering this iron. I've only ever used irons with a clamp and this one intimidated me. Luckily it was WAY easier to figure out than I thought. And my hair still looked healthy and felt soft after curling (my other irons fry my hair)! My hair is thick and wavy, and rests just above my shoulders. I was worried my hair wouldn't be long enough for this iron, but it works just fine! The curls are beautiful, and lasted me the whole work day. Then the next day I use some dry shampoo, touch up some straight pieces, and we are good to go for day 2 of curls! I will forever recommend this item to all of my friends. THANK YOU!

Bouncy voluminous curls!!
I have very fine hair- but i have hand tied extensions in which make it pretty thick! My curl style is beach waves and this curling iron can do bouncy classy curls or the beach waves!! Which is awesome!! Learning the curling iron took me a minute- but after i watched the video i was a pro!! It takes me normally 15 mins to curl my hair & it only took me 20 with the Farrah! its really really easy to use once you get the hang of it, and it doesn't tangle up your hair which was my biggest concern!! The curls lasted me allllll day through my work day & to the next day!! They stayed bounce and beautiful! I got so many compliments I would definitely recommend this curling iron to someone who loves the classic curl! I like mine a lot & will be using it on the bridal hair that i do!! Thank you for this awesome product!!!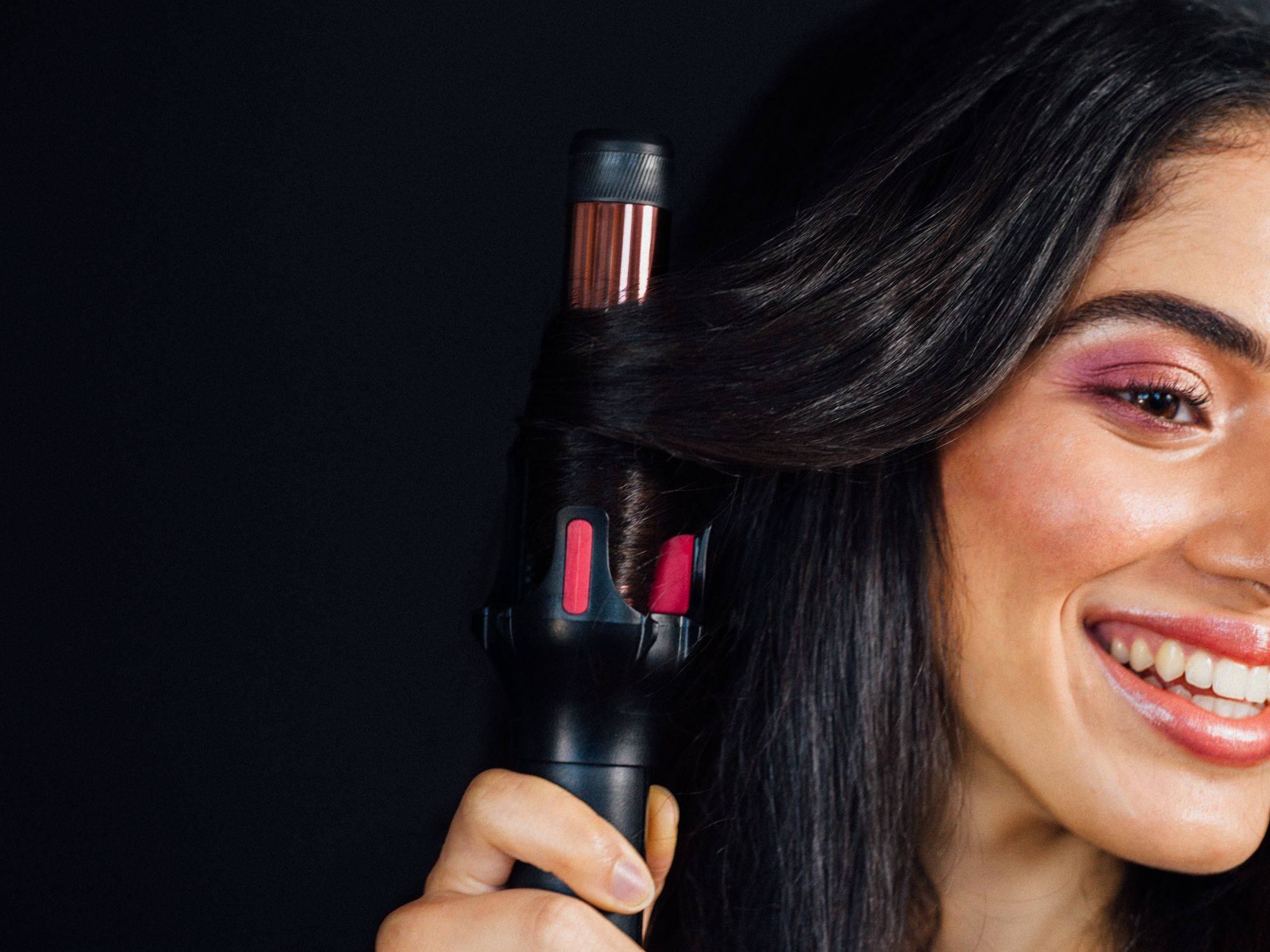 the Farrah Is a Movement!
The Farrah provides a fun, user-friendly hairstyling tool that empowers women to create salon looks without spending extra time and money to feel and look their best.The Farrah is the tool that gives women the power to create their own styles and share them with a community of other users. Think of it as open-source beauty.
---
Auto Rotating Carousel with SmoothCurl Technology
Tangle Free Motion
Long-Lasting Curls
Adjustable Temperature Control for all Hair Types
No Clamp, High-Shine Curl Barrel
Salon Results Every Time